Welcome to Episode 34 of Praestabilis: Excellence in Marketing.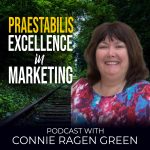 In Episode 34 the topic is around the theme of "Practice Makes…Excellence!" No perfection allowed and I discuss the importance of practicing your marketing with blogging and other writing, podcasts and other audio recording, and video marketing. It's important to hone your craft before you reach out to others in your niche and influencers in the marketplace.
Small business owners and entrepreneurs are in the business of building relationships and "requesting attention" and that guides our actions as we grow our business. The goal is to build credibility, increase visibility, and aim for profitability.
We can increase our relational "currency" in a variety of ways, including:
Volunteering – online or in person with small businesses as well as non-profits
Connecting with thought leaders and influencers on social media
Purchasing a product or course from someone and developing the relationship from there
Thank you for this opportunity to serve you as I share my beliefs, perceptions, and experiences as an author, online entrepreneur, and marketing strategist with you. Marketing has become the joy of my life as I continue to learn, grow, and share concepts with others.
I'm author, publisher, and entrepreneur Connie Ragen Green and would love to connect with you. If you're new to the world of online entrepreneurship please check out my training on how to sell yourself at Sell Yourself and Your Stuff and learn how to gain an unfair advantage when it comes to building a lucrative online business.
Podcast: Play in new window | Download
Subscribe: RSS