Welcome to Episode 12 of Praestabilis: Excellence in Marketing.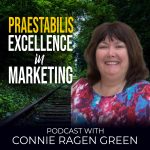 In Episode 12 I discuss how to stand out from the crowd by becoming a specialist in
one aspect of your niche. In my case, I specialized in helping people with writing,
publishing, and marketing eBooks when I got started in 2006.
Over time I was able to move into the world of online marketing, but not before I added some additional specializations to what I wanted to be known for, including affiliate marketing.
If you are struggling to rise above the crowd and make a name for yourself, take an
objective look at what you could be specializing in for best results.
Thank you for this opportunity to share my beliefs, perceptions, and experiences as an online entrepreneur and marketing strategist with you.
I'm author, publisher, and entrepreneur Connie Ragen Green and would love to connect with you. If you're new to the world of online entrepreneurship please check out my training on how to sell yourself at Sell Yourself and Your Stuff and learn how to gain an unfair advantage when it comes to building a lucrative online business.
Podcast: Play in new window | Download
Subscribe: RSS