Welcome to Episode 13 of Praestabilis: Excellence in Marketing.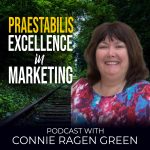 In Episode 13 I discuss how to use live events and Retreats as a way to your "excellence
in marketing" strategy. I've been a part of these awesome events since 2007 and look
forward to meeting people in person to further all of our business endeavors.
My first live event was as a co-presenter in my city. The owner of the local radio
station had invited me to put on this event for small business owners in our city
who would benefit from learning from me in the areas of SEO (search engine optimization) and online marketing. This led to my becoming a speaker at events across the U.S. and finally all over the world.
In 2010 I began co-hosting live events with an experienced marketer and by 2014 I was hosting my own live events in Las Vegas and small group Retreats in Santa Barbara.
This is an excellent strategy for connecting with people and growing your business.
Thank you for this opportunity to share my beliefs, perceptions, and experiences as an online entrepreneur and marketing strategist with you.
I'm author, publisher, and entrepreneur Connie Ragen Green and would love to connect with you. If you're new to the world of online entrepreneurship please check out my training on how to sell yourself at Sell Yourself and Your Stuff and learn how to gain an unfair advantage when it comes to building a lucrative online business.
Podcast: Play in new window | Download
Subscribe: RSS