Welcome to Episode 14 of Praestabilis: Excellence in Marketing.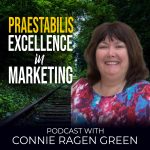 In Episode 14 I discuss how to use life skills to change your life. I have put together
something you will greatly benefit from and enhance your "excellence in marketing" strategy here:
Resilience: The 8 Skills You Need to Live Your Life with Inner Strength and Mental Toughness
* Develop your understanding of resilience and mental toughness
* Enhance your emotional regulation skills so you are in control
* Take full responsibility for your situation to grow exponentially
* Build a solid and supportive community of like-minded individuals
* Practice gratitude and forgiveness for yourself and others in your life
* Strengthen your relationship with yourself with a morning routine
* Move your body throughout each day to keep blood flowing to your brain
* Challenge yourself regularly with new skills and projects
You can read the first blog post in this series and download the Special Report at:
https://connieragengreen.com/understanding-resilience-and-mental-toughness
These 8 skills represent an excellent strategy for changing your life and growing your business.
Thank you for this opportunity to share my beliefs, perceptions, and experiences as an online entrepreneur and marketing strategist with you.
I'm author, publisher, and entrepreneur Connie Ragen Green and would love to connect with you. If you're new to the world of online entrepreneurship please check out my training on how to sell yourself at Sell Yourself and Your Stuff and learn how to gain an unfair advantage when it comes to building a lucrative online business.
Podcast: Play in new window | Download
Subscribe: RSS