Welcome to Episode 18 of Praestabilis: Excellence in Marketing.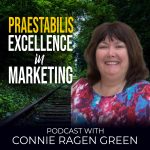 In Episode 18 I discuss baseball as a metaphor for authorship and entrepreneurship. I think you will agree that professional sports and business have much in common and that we may learn from this comparison. These are some examples:
* When someone is called up to the "Show" after playing in the minor leagues, they instantly become a newbie  once again
* The manager of the team serves as a mentor to new players
* The more seasoned players soon become friends and colleagues
* The best players focus on developing one skill above all others (pitching, batting, etc.)
* Players only improve by "doing" and not by observing or asking questions
What this means for you as an author and/or entrepreneur:
* Even if you have been successful in a job or career for decades, you're a newbie when you first come online
* You will benefit from finding a mentor to guide you (contact me if I may serve you in this way)
* You're not alone and don't want to be an island; reach out to others and develop friendships with your colleagues
* Choose one or two areas to specialize in above all others (authorship, affiliate marketing, etc.)
* You only succeed by "doing" and not by filling your hard drive instead of taking inspired action
If someone would have made this analogy for me in 2006 I could have moved ahead in my business much more quickly.
Instead, I struggled my first year and a half until a wise mentor pointed out the error of my ways. I shifted my
focus, took action every day, and soon replaced my previous income working as a classroom teacher and as a real
estate broker/residential appraiser. Please think about this and let me know your thoughts.
Thank you for this opportunity to share my beliefs, perceptions, and experiences as an online entrepreneur and marketing strategist with you. Marketing has become the joy of my life as I continue to learn, grow, and share concepts with others.
I'm author, publisher, and entrepreneur Connie Ragen Green and would love to connect with you. If you're new to the world of online entrepreneurship please check out my training on how to sell yourself at Sell Yourself and Your Stuff and learn how to gain an unfair advantage when it comes to building a lucrative online business.
Podcast: Play in new window | Download
Subscribe: RSS