Welcome to Episode 29 of Praestabilis: Excellence in Marketing.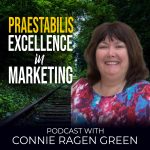 In Episode 29 the topic is "When the Going Gets Tough, the Tough Get Going!" In the middle of the pandemic we must stay strong and move forward with our projects and goals. It was never on my "bucket list" to endure and survive a pandemic, but here we are. And please remember, this too shall pass and we will have our lives back to a new normal at some point in the future, just as we did after the 911 crisis in 2001. Many of us were shocked and filled with fear, sadness, and hopelessness during the months after the terrorist attacks, but we must not do that now.
This is the time to find joy in even the smallest things and to commit to being creative. You may have more time available to you during this time and spend it with the people and the projects that have importance to you and hold meaning in your life.
Be IN the world but not OF the world during this time. Stay alert and informed, but refuse to allow thoughts that may be sad or depressing to fill your mind. Be safe, be strong, be a blessing to others, and be more productive than ever.
I would love to hear your thoughts on any or all of this, especially if you have specialized knowledge you are ready to share with the world. My goal is to help you achieve your goals and dreams and to create a lifestyle with time freedom and financial freedom.
Thank you for this opportunity to share my beliefs, perceptions, and experiences as an online entrepreneur and marketing strategist with you. Marketing has become the joy of my life as I continue to learn, grow, and share concepts with others.
I'm author, publisher, and entrepreneur Connie Ragen Green and would love to connect with you. If you're new to the world of online entrepreneurship please check out my training on how to sell yourself at Sell Yourself and Your Stuff and learn how to gain an unfair advantage when it comes to building a lucrative online business.
Podcast: Play in new window | Download
Subscribe: RSS