Welcome to Episode 30 of Praestabilis: Excellence in Marketing.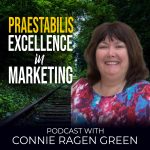 In Episode 30 I discuss how to take full advantage of the additional time we have now due to the pandemic. There are four areas I want you to focus on to make valuable use of your time. These four areas are writing, creating, marketing, and learning.
Write every day in order to expand your thinking and to get your thoughts and ideas out of your head and into words. This writing may begin as journaling and then take the form of blog posts, short reports, products, courses, trainings, and books.
Creating is how we turn our ideas into something tangible for others to benefit from. I am always creating one or two new products or courses, as well as a new book. Being able to create on a regular basis will open up your life in untold ways.
Have fun with marketing! How will you be able to persuade and convince others to buy what you create? Think of as many ways as possible to get the word out by marketing your own and other people's products and services.
Learning is a gift you give yourself every day. Once you see it in this way you will look forward to learning as much as you want or need on topics of interest to you, personally and professionally. Enjoy your learning and what you learn will serve you well over time.
These four areas will make a difference for you as an entrepreneur and author. We can make it through this challenging time by knowing it is only temporary and that what happens in our daily life does not define who we are as a human being.
I would love to hear your thoughts on any or all of this, especially if you have specialized knowledge you are ready to share with the world. My goal is to help you achieve your goals and dreams and to create a lifestyle with time freedom and financial freedom.
Thank you for this opportunity to share my beliefs, perceptions, and experiences as an online entrepreneur and marketing strategist with you. Marketing has become the joy of my life as I continue to learn, grow, and share concepts with others.
I'm author, publisher, and entrepreneur Connie Ragen Green and would love to connect with you. If you're new to the world of online entrepreneurship please check out my training on how to sell yourself at Sell Yourself and Your Stuff and learn how to gain an unfair advantage when it comes to building a lucrative online business.
Podcast: Play in new window | Download
Subscribe: RSS