Welcome to Episode 32 of Praestabilis: Excellence in Marketing.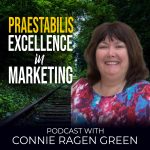 In Episode 32 the topic is how to use a challenge to create a blog post that becomes a simple, free product that can be extremely profitable over time.
The example I am using is that of the "Productivity Challenge" I have run since 2010. I began with 21 day challenges and soon went to thirty days as a way to connect with new prospects and to serve the people who had already been with me for years.
The first step is to choose a topic for which you can share your knowledge and expertise with others. I recommend that you begin with a ten or fifteen day challenge the first time so it does not become overwhelming to you. Once you have created your blog post (using the name of your challenge as the permalink) then you will purchase the domain name from your registrar. For example, my 30 Day Productivity Challenge for 2020 is at 2020ProductivityChallenge.com.
Every day you will add more content and information to your challenge, and be sure to include links to your own products, courses, books, and services, as well as those of affiliate products you use, benefit from, and recommend.
As your challenge comes to the end, copy and paste the content you have created into a Word document and save it as a PDF. Add the link to this report to the bottom of the post so that visitors to your site may download it and go through it at their own pace. This strategy is a solid one and I sincerely hope you move forward with your own challenge on the topic you are most knowledgeable about. Be sure to share it with me so that I may then share it with my community.
Thank you for this opportunity to serve you as I share my beliefs, perceptions, and experiences as an author, online entrepreneur, and marketing strategist with you. Marketing has become the joy of my life as I continue to learn, grow, and share concepts with others.
I'm author, publisher, and entrepreneur Connie Ragen Green and would love to connect with you. If you're new to the world of online entrepreneurship please check out my training on how to sell yourself at Sell Yourself and Your Stuff and learn how to gain an unfair advantage when it comes to building a lucrative online business.
Podcast: Play in new window | Download
Subscribe: RSS