Welcome to Episode 33 of Praestabilis: Excellence in Marketing.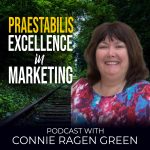 In Episode 33 the topic is around the idea of the five people you're spending the most time with. Also known as your "inner circle," these are the people who may help to shape you as a human being.
Inspirational speaker and author Jim Rohn told us that we are "the average of the five people we spend the most time with." Over the years I have come to understand that this precept is about much more than just income. Rohn taught me to add up the income of my closest circle and divide by five to determine my average income potential. That's one aspect of the equation but by no means the only one that will matter to you.
I think back to my childhood and the friends I chose to spend the most time with. Typically we became friends because we lived in close proximity, but they were not always the wisest choicest I could have made.
As an adult I continued to fall in with a crowd that did not serve me, meaning that they did not encourage me to succeed and many times discouraged me from trying to achieve a goal that was important to me, personally or related to one of my careers as a classroom teacher and in real estate.
Coming online at the end of 2005 helped me to understand this concept of seeking out people that would life you up and be excited for you when you were successful. Joining Rotary, an international service organization put me elbow to elbow with people who were unlike any I had known in my life previously.
I want this life for you! Take an objective look at the five people you are spending the most time with right now and ask yourself if each of them is helping you to improve your life and achieve your goals. Are you serving them in any way? And who can count you as one of their five people because you are encouraging them to become the best person they can be?
Thank you for this opportunity to serve you as I share my beliefs, perceptions, and experiences as an author, online entrepreneur, and marketing strategist with you. Marketing has become the joy of my life as I continue to learn, grow, and share concepts with others.
I'm author, publisher, and entrepreneur Connie Ragen Green and would love to connect with you. If you're new to the world of online entrepreneurship please check out my training on how to sell yourself at Sell Yourself and Your Stuff and learn how to gain an unfair advantage when it comes to building a lucrative online business.
Podcast: Play in new window | Download
Subscribe: RSS