Welcome to Episode 35 of Praestabilis: Excellence in Marketing.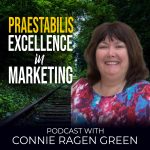 Episode 35 is all about enjoying massive visibility during 2020 and beyond. With live and other in person events on pause right now, this is the time to reset your marketing strategies to make the most of what is, and has always been available to us as entrepreneurs, marketers, authors, and speakers.
These are the methods I discuss in great detail during this podcast episode:
Reaching out to colleagues and others you know within your "circles of influence" to plan ways you may support each other
Going "BIG" on social media for an exponentially wider and broader reach to your target market
Emailing more often to better stay in touch with friends, thoughts leaders, prospects, and clients
Picking up the phone, or using Zoom or Skype to hold one-to-one conversations
Creating a new product, course, or program
Blogging regularly and syndicating your content
Hosting a challenge – I started the Blogging Challenge in 2009 and these have really taken off through the years
Teaching something you know and take for granted
Recording short (less than five minutes in length) videos to connect with your audience on a deeper level
Thank you for this opportunity to serve you as I share my beliefs, perceptions, and experiences as an author, online entrepreneur, and marketing strategist with you. Marketing has become the joy of my life as I continue to learn, grow, and share concepts with others.
I'm author, publisher, and entrepreneur Connie Ragen Green and would love to connect with you. If you're new to the world of online entrepreneurship please check out my training on how to syndicate your content for exponential growth, visibility, and credibility with Syndication Optimization.

Podcast: Play in new window | Download
Subscribe: RSS