Welcome to Episode 36 of Praestabilis: Excellence in Marketing.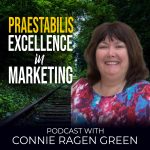 Episode 36 is an experiment in how I may record and produce my produce my podcast shows in the future. For years I have regularly hosted a teleseminar I call "Ask Connie Anything" where I answer questions, provide resources, and offer training in my areas of expertise. I used this format for Episode 36 and you can be the judge of whether or not this is a style that is preferable for you.
These are some of the topics I covered during this podcast episode:
How to find out which keywords you must be optimizing for to reach your target audience
The best free resources for help with your keyword research
Using Google to get the answers to all of your questions
The importance of time management and consistency in every area of your life
Thank you for this opportunity to serve you as I share my beliefs, perceptions, and experiences as an author, online entrepreneur, and marketing strategist with you. Marketing has become the joy of my life as I continue to learn, grow, and share concepts with others.
I'm author, publisher, and entrepreneur Connie Ragen Green and would love to connect with you. If you're new to the world of online entrepreneurship please check out my training on how to syndicate your content for exponential growth, visibility, and credibility with Syndication Optimization.

Podcast: Play in new window | Download
Subscribe: RSS