Welcome to Episode 37 of Praestabilis: Excellence in Marketing.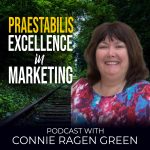 Episode 37 asks the all important question, "In the story of your life, will you be the star?" We are living through and attempting to thrive during a pandemic of unprecedented proportions. How we act and react during this period of time will make all the difference as to how we will be able to carry on once this is over. In this episode I ask you, the listener to answer a series of questions thoughtfully and honestly. These include…
What do you want to have accomplished during the pandemic?
What story or stories will you be able to tell now, during, and after it is over?
What will you be most proud of?
What will you wish you had done more of, less of, or or not at all?
What must happen to make you look back over this period of time to be able to say it was the best year (or longer) of your life?!
During this podcast I share stories and examples that may be of interest and relevant to you as you probe your mind  to think and to explore ideas around these topics.
Thank you for this opportunity to serve you as I share my beliefs, perceptions, and experiences as an author, online entrepreneur, and marketing strategist with you. Marketing has become the joy of my life as I continue to learn, grow, and share concepts with others.
I'm author, publisher, and entrepreneur Connie Ragen Green and would love to connect with you. If you're new to the world of online entrepreneurship please check out my training on how to syndicate your content for exponential growth, visibility, and credibility with Syndication Optimization.

Podcast: Play in new window | Download
Subscribe: RSS