Welcome to Episode 38 of Praestabilis: Excellence in Marketing.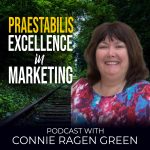 Episode 38 is all about productivity and time management and how mastering this area of your life is all important in the bigger scheme of life and business success. The concepts I share include…
Managing your to-do list and using a dynamic list every day
Measuring your results instead of your time
Building on and then tracking your habits to increase your productivity
The value of "sharpening your saw"
Scheduling when you will stop working each day
During this podcast I also mention the bestselling book I co-authored on this topic, "Time Management Strategies for Entrepreneurs: How to Manage Your Time to Increase Your Bottom Line"
Thank you for this opportunity to serve you as I share my beliefs, perceptions, and experiences as an author, online entrepreneur, and marketing strategist with you. Marketing has become the joy of my life as I continue to learn, grow, and share concepts with others.
I'm author, publisher, and entrepreneur Connie Ragen Green and would love to connect with you. If you're new to the world of online entrepreneurship please check out my training on how to syndicate your content for exponential growth, visibility, and credibility with Syndication Optimization.

Podcast: Play in new window | Download
Subscribe: RSS