Welcome to Episode 39 of Praestabilis: Excellence in Marketing.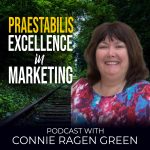 In Episode 39 I challenge you to accept the mission of staying focused and productive during the worldwide pandemic. Some of the activities I'm actively engaged in every day include…
Walking for an hour and interacting with people I encounter
Watching and/or listening to the Yankees in the 2020 Major League Baseball season
Connecting with people on Zoom calls, either individually or as a part of a group or organization
Supporting others in any way I can help to serve their needs
Using the concept of "Project Based Learning" in my work
By business is thriving and I am currently writing a new book, the second one I have co-authored with Ellen Finkelstein. I'm also adding a third season that will be taught live for Really Simple Authority Blogging that begins next week. My information product on the topic of "entropy" is one I have gone back to and will complete by the end of this summer.
What are you accomplishing during this time? Are you taking the time and making the effort to stay in touch with people? This can be done by socializing and networking, both in person at a safe distance and over the phone or by email, or even with a handwritten letter or card sent by snail mail!
Thank you for this opportunity to serve you as I share my beliefs, perceptions, and experiences as an author, online entrepreneur, and marketing strategist with you. Marketing has become the joy of my life as I continue to learn, grow, and share concepts with others.
I'm author, publisher, and entrepreneur Connie Ragen Green and would love to connect with you. If you're new to the world of online entrepreneurship please check out my training on how to syndicate your content for exponential growth, visibility, and credibility with Syndication Optimization.

Podcast: Play in new window | Download
Subscribe: RSS