Welcome to Episode 40 of Praestabilis: Excellence in Marketing.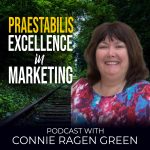 In Episode 40 the topic is around creating an information product by using private label rights (PLR) content as a starting point. The example I use is the high quality, professionally written and created PLR from Sharyn Sheldon. Using two of her rebrandable content packages as a starting point I move on by…
First, I choose the package(s) I wish to use to create my new information product.
Next, I read every word of what is included in the package at least twice, so I will become familiar with the topic.
Then I take a look at the original sales page for the package or packages I will be using for this info product to get some ideas for what I will include on my sales page.
Once I have completed these initial steps I am ready to move forward. I purchase a .com domain that describes what the product is about. A recent product I created in this way is called "Really Simple SEO Tips."
I also contact the person who will be doing the technology set up for the new site and product so they can add me to their schedule to get everything completed over the next few weeks. They will install the new WordPress site, create an attractive header for the page, add the membership site plugin I use for all of my products, add the payment button and link, set up the product for affiliates, and test everything out to make sure it is working.
The most important work I will do is to go through the content and make it my own as much as possible. This does not mean that I will rewrite it, but I do like to interject my thoughts, ideas, and experiences wherever possible. I hope you will take action with this income model and strategy, and please let me know where I may find your next information product! Be sure to take a look at Sharyn Sheldon's most recent offering to get started right away.
Thank you for this opportunity to serve you as I share my beliefs, perceptions, and experiences as an author, online entrepreneur, and marketing strategist with you. Marketing has become the joy of my life as I continue to learn, grow, and share concepts with others.
I'm author, publisher, and entrepreneur Connie Ragen Green and would love to connect with you. If you're new to the world of online entrepreneurship please check out my training on how to syndicate your content for exponential growth, visibility, and credibility with Syndication Optimization.

Podcast: Play in new window | Download
Subscribe: RSS