Welcome to Episode 41 of Praestabilis: Excellence in Marketing.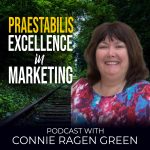 In Episode 41 the question is "What do you do when life throws obstacles in your path? Here are some things we are dealing with in the world right now…
Today is September 11th and we are remembering those we lost and the families that have been affected forever by the event of this day in 2001
We have made it six months, so far with the COVID-19 virus. Living through a pandemic was not something anyone could have anticipated at the beginning of 2020
Climate change continues to wreak havoc with Mother Nature in the form of wildfires, hurricanes, and more
It's an election year and never during our adult lives has the country been more divided. This affects the whole world in one way or another
We must stay strong and be people with true grit. Here are some ways I am staying positive and focusing on serving others during this challenging time…
Volunteering in my neighborhood and the community
Taking care of my health with exercise and healthy eating
Watching as many baseball games as possible!
Spending time engaged with friends and family members in new and creative ways
Starting a Book Club on Amazon
Thank you for this opportunity to serve you as I share my beliefs, perceptions, and experiences as an author, online entrepreneur, and marketing strategist with you. Marketing has become the joy of my life as I continue to learn, grow, and share concepts with others.
I'm author, publisher, and entrepreneur Connie Ragen Green and would love to connect with you. If you're new to the world of online entrepreneurship please check out my training on how to syndicate your content for exponential growth, visibility, and credibility with Syndication Optimization.

Podcast: Play in new window | Download
Subscribe: RSS