Welcome to Episode 43 of Praestabilis: Excellence in Marketing.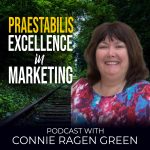 In Episode 43 the topic is "taking the next logical step" in your life and business.
I continue to believe that everything we do in our lives is in preparation for something that will come in the future. There are dozens of examples of how this has manifested in my own life and in the lives of people around me and I will share a few with you here. But first let's examine what it means to always be taking the next logical step in your life experience.
This concept was first introduced to me by an early mentor named Armand Morin. He is a logical thinker and attempted to turn his mentees into successful entrepreneurs by having us think a few steps ahead in our businesses. Instead of creating a product he encouraged us to create a "product line" and instead of planning a live or virtual event he preferred that we create a program that included ongoing events. After working with Armand my thinking shifted and my goals got bigger. This was the next logical step for me at that time.
If you begin with the precept that we are all just ordinary people, capable of achieving extraordinary goals then the next logical question is "What can you do today to move yourself closer to the life you desire?" I realize that answering this question may seem like an insurmountable task right now. You might even be thinking that if you knew what you do today, and each day to move closer to your goals you would already have arrived at the doorstep to success.
If only it were that easy! Taking the next logical step is simple, but our sophisticated minds take us on a journey that complicates the simple and makes it anything but easy. Let's explore how to simplify our thinking and take it one step at a time…
Years ago I was in a graduate course on educational psychology. The first day we were given the assignment to describe to the rest of the students how to make a peanut butter and jelly sandwich. We were to bring in the necessary items and instruct someone on how to achieve this goal. I was sure I'd be able to ace this because of my years of experience with making sandwiches of all kinds. Without thinking about it very much I packed a plate, butter knife, jars of my favorite peanut butter and jelly, several slices of bread, and some paper towels into a bag. When I arrived at my classroom I saw that the other students had done the same, with some variations such as napkins instead of paper towels and different types of utensils for spreading the two ingredients on the bread.
The first person was called upon and came to the front of the room. The professor asked him to choose another student as an assistant. He was then to give the instructions to the helper, who would then make the sandwich by following the exact steps he offered up.
This became a comedy of errors as he called out what to do next. Because making a sandwich is second nature to almost everyone we tend to leave out some important steps, such as taking the bread out of the bag, opening the jars of peanut butter and jelly, and most hilarious of all, only slathering them on one side of each piece of bread. And just the idea of following a step by step set of instructions eliminated the creativity and took the fun out of this activity for many of the students.
So how then do we formulate our own logical steps for getting from where we are right now to closer to where we wish to be? I will share an example based upon my experience as a new online entrepreneur in 2006. I could soon see it would be "sink or swim" and I was determined to achieve success and build a profitable and lucrative business on the internet.
Looking back to this time, I'm not sure how I thought I was going to make a living online. But what I lacked in experience I more than made up for with my enthusiasm. Sitting in front of my computer I attempted to figure it out all on my own. That was my first mistake. Once I began working with a mentor things began to fall into place.
This mentor encouraged me to write an eBook on a topic I knew well. Without much thought I chose the niche of small dog training and set about to create my first product. After a month I had given up and was frustrated with the process. That is when I decided to begin running my life like a business, a phrase that seemed to say it all in my situation. A month later I did write and publish my first eBook but it had nothing to do with small dogs, or dogs of any size.
My success with this project only came after a took a huge step back and reassessed my current situation. After working as a classroom teacher for twenty years, while simultaneously running a small business around real estate brokerage and residential appraisal I had left it all behind to come online. I began with a list of what I needed to do right then and added notes about how I would get there.
At the top of the page I wrote FOCUS in all caps. I knew that I had to stay focused if I were to achieve this, or any goal. Then I wrote down the steps for writing an eBook, and added publishing and marketing the eBook to my list. Initially, it looked something like this:
Decide what to write about
Do some research
Create an outline
Break it down into sections and chapters
Divide each chapter into three parts
Write one part of a chapter, at least, every day
Blog about the topic to begin the marketing
Find out about self-publishing
Find out about selling on the internet
Finish writing
Publish
Keep marketing
These 12 steps got me started, kept me going, and allowed me to achieve my goal in just a few short weeks. Each step allowed me to begin taking the next logical step towards completion. And for each step you include, know that it will lead to more steps, to the point that your final goal may look at least slightly different than what you had initially intended. Always ask for "this, or something better" and you will soar to new heights.
You may wish to create a mind map in lieu of a bulleted list. It's your choice and will depend upon whether you are more of a creative, free thinker or analytical in your approach to life. One you have your steps in a format that will work for you, break down each one even further. For example, once I decided what to write about (the first step in this example) I niched it down to a specific topic of interest to the target audience I was going after. I broke down the much too broad topic of real estate to the narrow topic of helping real estate agents get listings and find people to sell property to by farming a specific geographical area of their city or town.
I broke down my research into two groups; active real estate agents who were benefiting from maintaining a farm and those who hated farming and were not seeing any results. Once I understood the thinking and actions that separated the two I knew I could teach the winning strategies to others.
Earlier I said that I believe everything we do in our lives is preparing us for what we will do in the future. This example is just one that proves this precept to be true. When I finally decided on the best topic for me to write about at this time I chose real estate. I had been preparing for this over the more than twenty years I worked actively in this area. The research I completed was based on my own experiences, as well as those of my colleagues who continued to work in real estate.
Now let's step away from business and discuss taking the next logical step in another area of your life. During 2019 I made the decision to lose weight and get in better shape physically. This came about after my doctors declared me to be pre-diabetic and morbidly obese. Hearing these words was a blow to my psyche but not a complete shock. I wrote down my goals before the end of the year in very specific terms and numbers.
Taking the next logical step would have required me to do some research as to the best eating plan for me and to start walking and doing light exercises with small weights. Yet the new year arrived and I had done nothing. My goal had turned into a dream because I had no plan and had not fully committed to making this goal become my reality.
By the beginning of March I turned that all around, with the help of several coaches and mentors who continue to guide me through the steps I need to take every single day. The next logical step turned out to be writing down what I was eating and during which hours of the day. My results have been fantastic and I have shared them with my community over the past six months. My point here is that you can achieve and have anything you want if you are committed to taking the next logical step.
I'm bestselling author, marketing strategist, and online entrepreneur Connie Ragen Green and I would love to connect further with you to help you to achieve your goals. If you are interested in learning how to optimize the syndication of your content, please take a look at my popular Syndication Optimization training course and consider coming aboard to increase your visibility, credibility, and profitability.
Get started with your own eBook empire by learning how to write an eBook from the person who continues to guide me along this lucrative journey. Take a look at How to Write and Publish Your Own eBook…in as Little as 7 Days from expert and author Jim Edwards.
Thank you for this opportunity to serve you as I share my beliefs, perceptions, and experiences as an author, online entrepreneur, and marketing strategist with you. Marketing has become the joy of my life as I continue to learn, grow, and share concepts with others.
I'm author, publisher, and entrepreneur Connie Ragen Green and would love to connect with you. If you're new to the world of online entrepreneurship please check out my training on how to syndicate your content for exponential growth, visibility, and credibility with Syndication Optimization.

Podcast: Play in new window | Download
Subscribe: RSS