Welcome to Episode 45 of Praestabilis: Excellence in Marketing.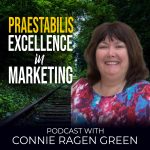 In Episode 45 I discuss the concept of reinventing your life. Also referred to as pivoting or starting over, the idea is that you can make the choice to change your life completely. Our world has turned upside during 2020 due to the pandemic worldwide and the politics and economy in the United States and everyone has been affected to one degree or another. Perhaps you are thinking about a pivot or a change or a full reinvention. I did that when I came online in 2006, and the world wasn't even in a mess. I was ready to change me life. What about you? What are you thinking and which direction are you headed as we move into the new year?
Constraints Allow for Creativity
Did you know the popular book Green Eggs and Ham, written by Theodor Geisel in 1960 started out as a bet between him and his publisher at Random House? The publisher was named Bennett Cerf and the author became known as Dr. Seuss to the world.
The bet set forth by Cerf was that Geisel could not write an entertaining children's book using no more that 50 different words. Geisel took the bet and the book was published later that same year. Having the constraint of only being able to choose from fifty words of his choosing was not an easy task, but it was a relatively simple one. He played around with different words, selecting ones like "the" and "and" and "is" to begin with. Then he went for nouns and adverbs and began to write. Obviously, Theodor Geisel (AKA Dr. Suess) won the bet and the world is a better place because of his writing and his personal reinvention during this time.
I would love to know your thoughts on these concepts.
Get started with your own eBook empire by learning how to write an eBook from the person who continues to guide me along this lucrative journey. Take a look at How to Write and Publish Your Own eBook…in as Little as 7 Days from expert and author Jim Edwards.
Thank you for this opportunity to serve you as I share my beliefs, perceptions, and experiences as an author, online entrepreneur, and marketing strategist with you. Marketing has become the joy of my life as I continue to learn, grow, and share concepts with others.
I'm bestselling author, marketing strategist, and online entrepreneur Connie Ragen Green and I would love to connect further with you to help you to achieve your goals. If you are interested in learning how to optimize the syndication of your content, please take a look at my popular Syndication Optimization training course and consider coming aboard to increase your visibility, credibility, and profitability.
Podcast: Play in new window | Download
Subscribe: RSS