Welcome to Episode 46 of Praestabilis: Excellence in Marketing.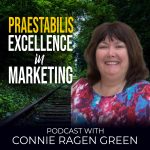 In Episode 46 I discuss the gratitude I have for my online business. For over twenty years I worked as a classroom teacher and simultaneously as a real estate broker and residential appraiser. Once I made the conscious decision to leave that life behind and come online in 2006, my life changed completely.
Entrepreneurship Allow You to Call the Shots

Having complete control over my time and income has provided me with a lifestyle I could not have previously imagined. This has spilled over to my personal life and to the lives of the people I love on two continents. If you are considering a life as an online entrepreneur and author I would be honored to be able to work closely with you.
I would love to know your thoughts on these concepts. Please visit my main sites at Connie Ragen Green and Huge Profits Tiny List. Connect with me on Twitter for the latest updates and announcements.
Get started with your own eBook empire by learning how to write an eBook from the person who continues to guide me along this lucrative journey. Take a look at How to Write and Publish Your Own eBook…in as Little as 7 Days from expert and author Jim Edwards.
Thank you for this opportunity to serve you as I share my beliefs, perceptions, and experiences as an author, online entrepreneur, and marketing strategist with you. Marketing has become the joy of my life as I continue to learn, grow, and share concepts with others.
I'm bestselling author, marketing strategist, and online entrepreneur Connie Ragen Green and I would love to connect further with you to help you to achieve your goals. If you are interested in learning how to optimize the syndication of your content, please take a look at my popular Syndication Optimization training course and consider coming aboard to increase your visibility, credibility, and profitability.
Podcast: Play in new window | Download
Subscribe: RSS