Welcome to Episode 27 of Praestabilis: Excellence in Marketing.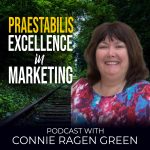 In Episode 27 the topic I discuss in person networking. I hope this isn't a lost art because it is extremely effective to meet people face to face to share who you are and what you do. I recently accepted the invitation of a long time friend to attend a mixer for a networking group he has been a part of for two decades. The group wants to open a new chapter in my community and there were about fifty people in attendance that evening. I made it a point to meet everyone, shaking their hand, looking them in the eye and introducing myself. Then I asked each person what they did and what they needed in order to grow their business. I encourage you to explore networking opportunities where you live and get to know as many people as possible.
By sharing my own experiences as a public speaker it is my belief that you will be able to move forward more quickly than I did. Speaking on your topic(s) of expertise is an excellent business model that will serve you throughout your lifetime.
I would love to hear your thoughts on any or all of this, especially if you have specialized knowledge you are ready to share with the world. My goal is to help you achieve your goals and dreams and to create a lifestyle with time freedom and financial freedom.
Thank you for this opportunity to share my beliefs, perceptions, and experiences as an online entrepreneur and marketing strategist with you. Marketing has become the joy of my life as I continue to learn, grow, and share concepts with others.
I'm author, publisher, and entrepreneur Connie Ragen Green and would love to connect with you. If you're new to the world of online entrepreneurship please check out my training on how to sell yourself at Sell Yourself and Your Stuff and learn how to gain an unfair advantage when it comes to building a lucrative online business.
Podcast: Play in new window | Download
Subscribe: RSS